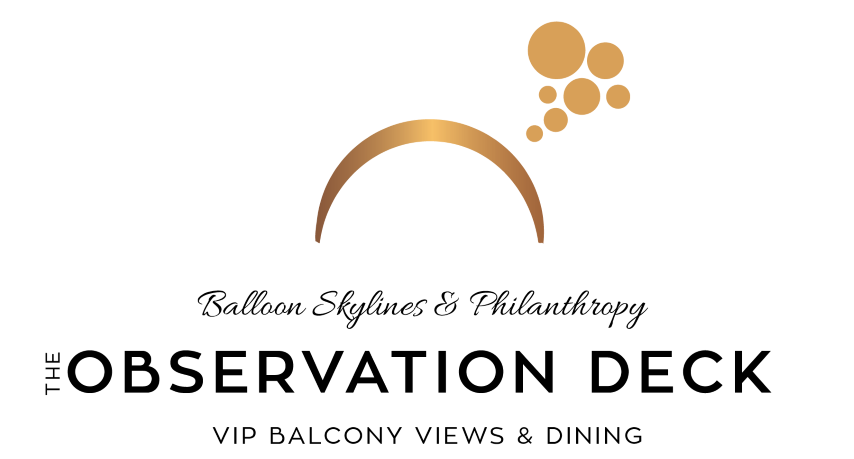 Oct 7, 2023 at 5:30 AM to Oct 15, 2023 at 9:00 AM
9201 Balloon Museum Dr. NE,
Albuquerque,
NM
Ticket Information
Click the dates below for ticket types and price options.
Note that an adult ticket is required for the purchase of any youth tickets or the open bar add-on. Add adult ticket to cart and youth ticket selections will appear.


TICKETS INCLUDE:
Dining experience at the Museum overlooking Balloon Fiesta
Indoor seating in private solarium room with balcony views
Museum elegance and indoor amenities
VIP Parking* on-site at the Balloon Museum
Gourmet catered meals
Shuttle service between museum and the launch field
Commemorative lapel pin
Drink coupon for beverages, full bar, local craft beer and wine
Cash bar with the optional add-on of Open Bar
Access to Balloon Museum exhibitions & programs
Admission to Balloon Fiesta Park and Balloon Fiesta events
*One Parking Pass is issued for up to three tickets. (Ex. 1-3 tickets = 1 parking pass, 4-6 tickets = 2 parking passes, etc.)
DISCOUNT INFORMATION:
Table of 8
Bring your friends, family, neighbors and co-workers! Purchase 7 adult tickets and get a reserved table for 8 - a savings of up to $250! Put 8 adult tickets for any single session in your cart. A pop-up box will appear with the coupon code for that session. Enter that into the Promo Code box, click "Apply" and the cost of 1 adult ticket will automatically be discounted.
*Discount applies to a single session, adult tickets only. Quantities limited.

Groups
Groups of 16+ receive $15 off each adult ticket, $6 off youth tickets.
Simply enter "ODGROUP23" into the Promo Code box, click apply, and the discount will be applied.

Exclusions
Oct. 15 Breakfast excluded from all discounts.
To return to the schedule, click
here
.
To return to the Balloon Museum website, click
here
.
When & Where
Oct 7, 2023 at 5:30 AM to Oct 15, 2023 at 9:00 AM MDT
9201 Balloon Museum Dr. NE
9201 Balloon Museum Dr. NE
Albuquerque,
NM
87113
Event Summary
AN EXPERIENCE OF A LIFETIME
The Balloon Museum Foundation is proud to host The Observation Deck Balloon Museum Dining Events during Balloon Fiesta Season, October 7-15 2023.

Offering the best views from above the crowds, delicious dining, VIP amenities, and access to the Balloon Museum and Balloon Fiesta Park, the Observation Deck is the best way to experience Balloon Fiesta.

Click the calendar items for schedule details.
More Details
Saturday, Oct. 7 – Breakfast, Dinner
Sunday, Oct. 8 – Breakfast, Dinner
Monday, Oct. 9 – No Dining Events
Tuesday, Oct. 10 – No Dining Events
Wednesday, Oct. 11 – Breakfast Only

Thursday, Oct. 12 – Breakfast, Dinner
Friday, Oct. 13 – Breakfast, Dinner
Saturday, Oct. 14 – Annular Solar Eclipse Event & Breakfast, Dinner
Sunday, Oct. 15 – Breakfast Only